Francisco Juan Rodríguez "Kiko"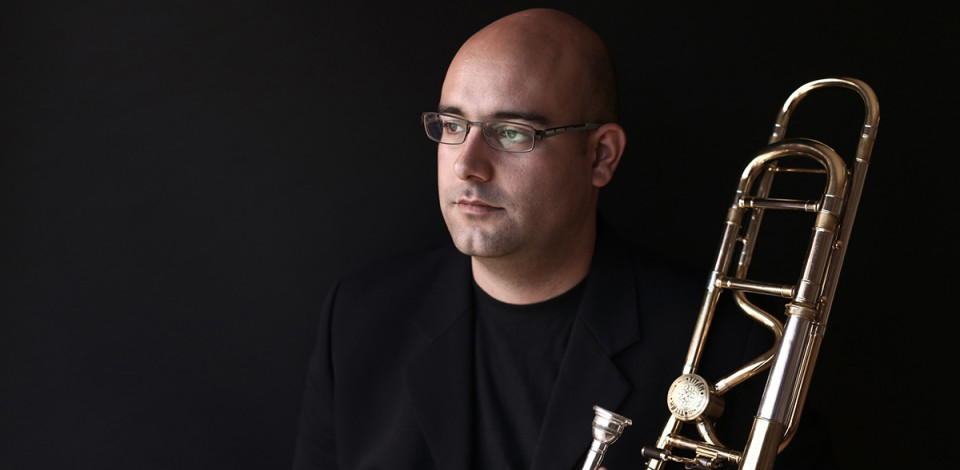 Francisco Juan Rodríguez "Kiko"
Born in Castalla, Alicante, Spain in 1981, Francisco started his musical studies with the Sta. Cecilia Musical Ensemble in the hands of Juan Manuel Molina playing the tuba but switched to trombone later with the help of his professor, Ximo Vicedo.
He continued his studies at Alicante's Professional Conservatory with professors such as Vicente López, Antonio Mas and Rafael Donet among others. At the Spanish Brass International Academy of Brass, he studied with Carlos Gil and Indalecio Bonet but had guest professors such as Enrique Crespo, Ian Bousfield, Gilles Millière, and Michel Becquet. Later, at the RCSM of Madrid, he studied with Elies Hernandis where he obtained his diploma which placing on the Honour Roll. He has also learned at the hands of Dany Bonvin of the Universität Mozarteum in Salzburg, Austria and at the Aragon Conservatory of Music with Gilles Millière.
In 2000 to 2001, he completed a monographic perfection course with Indalecio Bonet at the post-graduate level at Castellon's Conservatory of Music. 
He has also participated in courses with Branimir Slokar, Robert Child, Ximo Vicedo, Olaf Krumpfer, Ricardo Casero, Daniel Lasalle, Juan Abad, Mario Torrijo, Alvaro Martínez, Dany Bonvin, Stefan Geiger, and Stefan Schülz.
Francisco has been awarded the 2nd Prize at the Albuixec's 3rd Annual and 2nd Prize at Xàtiva's 5th Annual National Competitions in Valencia. He was also awarded 2nd Prize in Villena's 13th Annual Competition for Young Musicians and 2nd Prize in Spain's Permanent Competition for Young Musicians in the chamber music category with his group, 2i2quartet.
Francisco was a member of Catalonia's Schools of Music Orchestra (OEMUC) in 2000, the Community of Valencia's Federation of Musical Societies band in 2001 and 2002, the Community of Valencia's Youth Orchestra from 2001 to 2004, the Academy of Contemporary Music in 2003, with the Stiftung Schleswig-holstein Music Festival Orchestra from 2002 to 2005, and as an interim trombonist with Spanish National Radio and Television's Orchestra from 2006 to 2009.
He has collaborated with the group Modus Novus, JONDE, Galicia's Royal Philharmonic, Spanish National Radio and Television's Orchestra, Madrid's Symphony Orchestra, the Str|ngplus Ensemble, the Universität Mozarteum Orchestra in Salzburg, the Bayesrische Kammerphilharmonie, Junge Philharmonic in Salzburg, the Santa Cecilia Orchestra, Andrés Segovia Orchestra, and the ONE.
In March 2003, Francisco played as a soloist with the Madrid Royal Conservatory of Music's symphony band, performing N. Rimsky-Korsakov's Concierto for Trombone and Band under the direction of Miguel Moreno Guna in the Las Rozas Auditorium in Madrid.
He was also a founding member of the Capital Brass Quintet, with whom he has performed throughout the Community of Madrid, Ávila, and La Palma. The group also participated as professors in the 4th Annual "Ciudad de El Paso" International Music Meet. Francisco also co-founded Trobada, a group of trombonists from Madrid's many different orchestras.
In addition to being a member of 2i2quartet with whom he performs and teachers with regularly, Francisco is also currently a member of the CGFUP in Burgos, the Bur-Bone quartet, and Burgos Brass. He is also studying Band Direction at the Vall d´Albaida School of Music with his professor, J. R. Pascual-Vilaplana.
Francisco plays the Titán line of instruments from Stomvi.