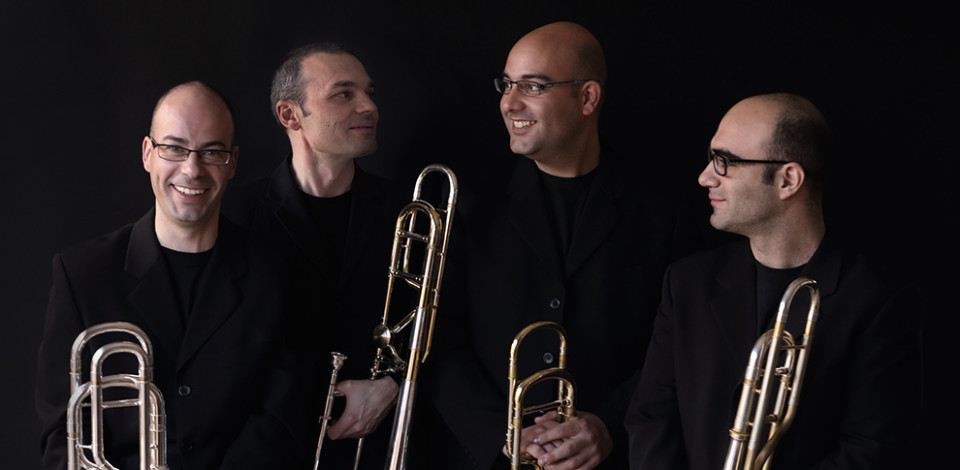 2i2quartet
2i2quartet was founded in 2000, and its members are Juan Carlos Matamoros Cuenca, Álvaro Martínez Andrés, Francisco Juan Rodríguez "Kiko" and Miguel José Martínez "Viriato". As a trombone quartet, they are an atypical chamber ensemble known for its perseverance, versatility and up-kept repertoire.
In their beginnings, they received an award at the Permanent Competition of Young Musicians of Spain (2001), which encouraged them to continue working on this one-of-a-kind project in our country.
In February 2007 they decided to publish their first recording, Memòries, followed by 2i2 versos (2010) and 15 AÑOS (2015), which included a great number of musical pieces composed specifically for 2i2quartet. Their interest and care when selecting their repertoire is one of their trademarks, the reason why they decided to recover pieces that had been forgotten or not often performed, and also the motivation behind them engaging contemporary composers to write for them. To this end, the 2i2quartet music sheet collection was created in the Tot per l'Aire publishing company.
In 2004 they were invited to perform with the Generalitat Valenciana Youth Orchestra in the national premiere for the Concertino for Trombone Quartet and String Orchestra by Jan Koetsier, under Manuel Galduf's direction; and in 2015 they participated in the Auditorio Nacional de Madrid premiere of the new review of Oracles, by F. Zacarés, written for trombone quartet and band, along with the Municipal Madrid Symphonic Orchestra, with Rafael Sanz at the helm.
During the 2007 season they were selected to participate in the Circuitos de Música Injuve.
Furthermore, they have also been invited to participate in several editions of the International Trombone Festival. Their Latin-American tours and their performances in international festivals are particularly remarkable, among others in: Segovia International Festival, Porta Ferrada Festival, SBALZ, FESMON, Círculo de Bellas Artes in Madrid, Auditorio Manuel de Falla in Granada, Centro Cultural Conde Duque (Madrid) or in the Palau de la Música in Valencia.
In addition to their musical performances, 2i2quartet have been able to display their interest in teaching through the training courses they have been organising since 2001, inviting renown teachers and including a concert festival. In 2006 they merged their courses with the courses organised by trombonist Francisco Soler, creating the "Jornadas Trombonísticas", held every year in July in Biar (Alicante).
2i2quartet thanks Stomvi for their support and uses their Titán line of instruments.