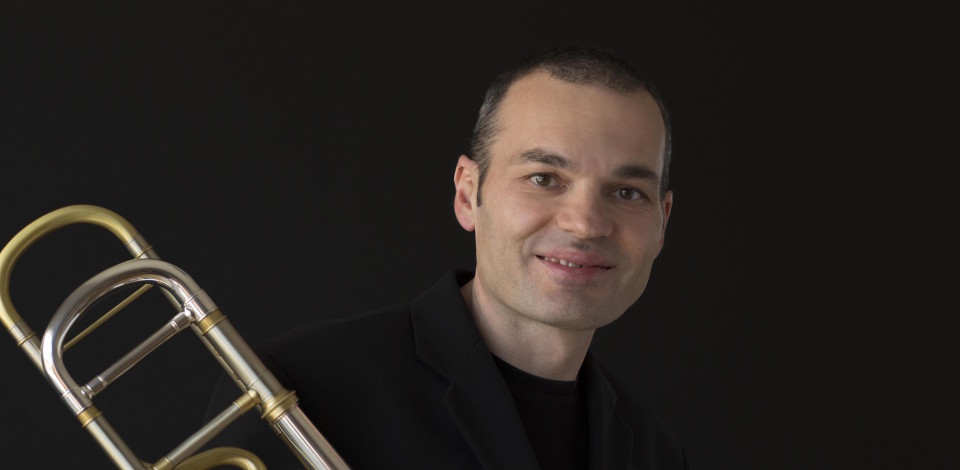 Álvaro Martínez
Born in Moncada (Valencia) in 1971. His training began following family tradition, a highlight in his musical development were the classes taught by Vicente Costa.
He conducted his euphonium and trombone studies in the Valencia Music Conservatory, following the teachings of Rafael Tortajada and Joaquín Vidal, and later on in the Cataluña Music Academy, specialising in sackbut and chamber music with Daniel Lasalle and Jean-Pierre Canihac.
Among other important influences in his training are the following professors and international soloists: Gilles Millière, Keith Brown, Ricardo Casero, Enrique Ferrando, Branimir Slokar, Sam Pilafian, Jonathan Saas, Jean Pierre Mathieu, David Antich and Francisco Rubio.
He was a member of the National Spanish Youth Orchestra and, in 1993, member of the Córdoba Orchestra, and since then, he has also been a member of the Spanish National Radio and Television Orchestra, from 1994 to 2009, and currently, he is a member of the Community of Madrid Orchestra.
He is a teacher at the Arturo Soria Professional Music Conservatory, and before that (from 1996 to 2004) he also worked at the Salamanca Conservatory of Music, as well as in other Conservatories in the Madrid area. He has also planned and taught preparation and enhancement programmes for the Community of Madrid Youth Orchestra, Castilla y León Youth Orchestra, Alcañiz Professional Conservatory (Teruel), Valladolid Conservatory, Murcia Professional Conservatory, Villareal Academy (Castellón), Alfonso X el Sabio University, and Forum Musikae.
His experience as an orchestra professor has given him the opportunity to work closely with several Symphony Orchestras: Granada Orchestra, Valencia Symphony, Spanish National Orchestra, Asturias Symphony, Galicia Philharmonic, Valencia Municipal Band, Madrid Symphony, Andrés Segovia Orchestra; as well as with other kind of ensembles and Chamber music groups: Seville Baroque Orchestra, Cataluña Baroque Orchestra, Parnassus, Ministriles de Marsia, Cuarteto Magerit, Madrid Brass, Spanish Brass Group, Spanish Radio and Television Choir, Valencia Choir, Victoria Musicae, Ensemble Fontegara, Musica Ficta, Capella de Ministrers, La Grande Chapelle, Les Sacqueboutiers de Toulouse…
He also contributes to recordings by RNE (Spanish National Radio), RTVE (Spanish National Television), IVM (Valencia Music Institute), and has recorded with Early Music ensembles like "Capella de Ministrers" or "Victoria Musicae". He is a member of the "2i2quartet" trombone quartet, the "Trobada" trombone-choir and of "The Sir Aligator's Company".
He has performed as a soloist for the Spanish National Radio and Television Orchestra (premiere of the "Mandrake in the corner" concert , with C. Lindberg), as well as with the Vitoria-Gasteiz Municipal Music Band, and with the Brass Band in Nîmes, along with "The Sir Aligator's Company", a trombones and tubas ensemble with whom, since 1995, he has recorded three albums, participated in many concerts and taken part in national and international festivals: Alicante Contemporary Music Festival (including the premiere of "Tuve Tuba por un tubo" by Fernando Palacios), Los Conciertos de la 2 (RTVE), Tuba and Euphonium Conference and Contest Verso il Millennio (Lago di Garda), Festival "Bernard Hulot" (Lille), Ezcaray Jazz Festival, San Sebastián International Film Festival, VEO Theatre Festival (Valencia), Almagro International Theatre Festival, SBALZ (Alzira), China Music 2013 and 2014 (Shanghai), Jornadas Trombonísticas (Biar, Alicante), Festival Méditerranéen du trombone (Marseille 2015), International Trombone Festival (Valencia 2015)…
Álvaro Martínez plays the Titán line of instruments from Stomvi.